Now with
TTP
TIME-TO-PLAY
Monitor your streams from anywhere in the world
What is StreamTest.net Stream Monitoring service?
Live, real-time, constant, monitoring of your live or on demand streaming channels.
Easy to get started
Instant results
Fully integrated alert system. Get notified when your stream is down. The StreamTest.net monitoring service is on constant watch always checking to make sure everything is order with your online channels.
Robust data sampling. Streamtest.net goes a step further and provide you monitoring data every time we sample your stream. Whether once every hour or once every minute you get a complete and accurate historical record of your streaming channel.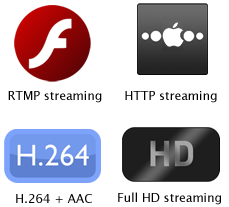 ---
How does it work?
StreamTest.net has specifically designed and built, highly powerful, customized virtual streaming users. They can be called on to sample your stream at a predetermined interval locally or anywhere your audiences might be around the world. It's your choice. In just a few seconds Streamtest virtual streaming users (VSU's) will sample your streaming channel, render results that you can then view on the Streamtest Monitoring Dashboard. All in real time. Plus you are able to drill down into a detailed, active, real time, running graph of your streaming channel. The data results obtained by the VSU's are displayed in a simple, easy to read and understand format. The StreamTest Monitoring service checks to make sure your streaming service is exactly as you need. Should your stream fail in any way StreamTest.net has integrated a robust alert system that will instantly notify you - 24/7.
---
Benefits of StreamTest Monitoring
Stay on top of your streaming not the other way around. Don't you hate it when someone (especially a customer) tells you your streaming is down? Before you even know... Never again. Be the first to know what's happening with your online channels. With streamtest monitoring alert system you will never have that happen again.
PLUS:
See and understand what your audience experiences, first hand, globally
Learn more about the way your streams truly perform from many different locations around the world
Gain insights you can act on
Execute powerful A/B tests
Test your CDN against another and determine the best delivery network for your content
Confirm CDN performance information
Never get caught off guard again with your streaming services.
Save time - monitoring dashboard is a dynamic, intuitive display of your streaming channels in order of what needs your attention most
Save money by quickly finding the problem

---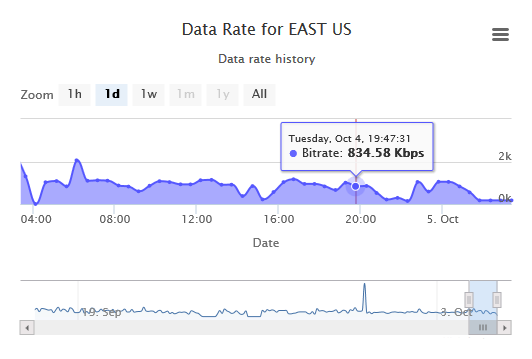 Features of StreamTest Monitoring
Alerts - streamtest.net full alert system not only alerts you when your streaming channel goes down but it can also alert you to as many other metrics as you might want. buffer spike, TTP spike, bit rate collapse - whatever is important to you the streamtest alert protocol can keep you instantly up to date.
Easy to read, navigate and understand graphed channel information - get up to date at a glance. "green across the board" is ok.
Health check - get an active, real time health indicator of all of your streaming channels.
Red alert - problem streams are flashed red to quickly identify problem areas
Streaming channel data logging - Go back in time to find a problem - easy to confirm if your stream when down (even for a couple seconds) simply click on the detail graph and select the date time you want to look at - easy and fast
Unlimited channels
Unlimited monitoring choices - select whatever combination of geo sampling, bit rate and interval time you want
300 data points to choose from - want more information, need drill down on streaming channel details
Secure channels not a problem - streamtest monitoring can handle most streaming channel security issues. we can make sure you get set up
Flexibility - add, cancel, delete or hold as many channel combinations as you want. no limits
Editing - need to edit, adjust, change a channel under monitor - go right ahead. no limits
Go global - streamtest monitoring has over 200 geo monitoring location world wide. we have a monitoring location wherever your audience might be watching
---
Geographic Stream Sampling
Your audience is likely from people all around the country or around the world so shouldn't your monitoring service be the same?
The StreamtTest Monitoring allows you to keep track of your stream from one location or many. For example, if you are a live TV network in New York, you can monitor your live streams using one of our New York virtual streaming users and from as many other locations globally.
Here is or basic service list of location to choose from:
East US - Virginia
US Gov Iowa - Iowa
US Gov Virginia - Virginia
North Central US - Illinois
South Central US - Texas
West US - California
North Europe - Ireland
West Europe - Netherlands
East Asia - Hong Kong
Southeast Asia - Singapore
Japan East - Tokyo, Saitama
Japan West - Osaka
Brazil South - Sao Paulo State
Australia East - New South Wales
Australia Southeast - Victoria
Central India - Pune
South India - Chennai
West India - Mumbai
China East - Shanghai
China North - Beijing
Canada Central - Toronto
Canada East - Quebec City
East Asia – Hong Kong, China
South East Asia – Singapore
South-central US – San Antonio, TX
West US – Northern California
East US – Northern Virginia
North-central US – Chicago, IL
West Europe – Amsterdam, Netherlands
North Europe – Dublin, Ireland
Australia Southeast – Melbourne
Australia East – Sydney
Japan East – Saitama
Japan West – Osaka
Brazil South - São Paulo
Central US - Iowa
South Korea – Seoul
North-western US – Oregon
Germany – Frankfurt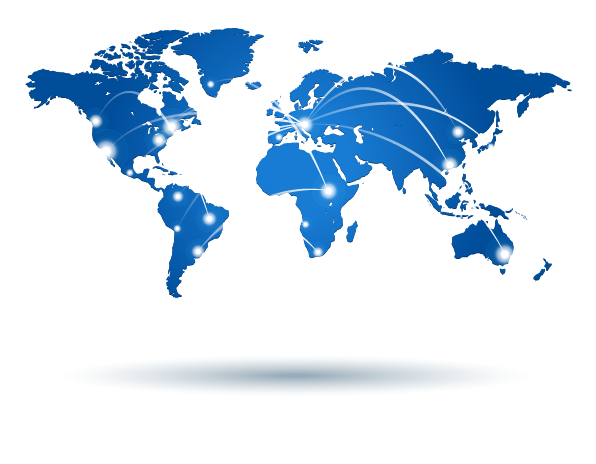 ---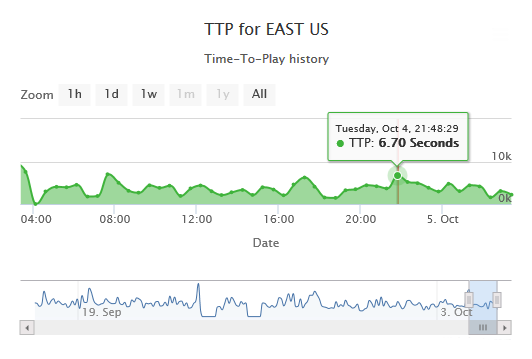 Time To Play (TTP Key Metric)
StreamTest.net has created a new Quality of Experience (QOE) metric for streaming called Time To Play (or TTP). It is an actual measurement, tracked over time, of how long it takes before your audience can watch your stream. Critical for keeping viewers is quick play. Keep the eye balls on the screen. If your audience cannot access your content quickly they will leave within seconds to go find an alternative. TTP or Time to Start is critical to the success of your online broadcast. TTP is not to be confused as the same as buffering time. Time to Play includes is so much more.
It is the amount of time it takes for each stream to begin playback.
It is measured from the time each monitoring sample requests the stream to the time the first playback occurs.
Time to Play specifically measures: the time between when the stream connection is requested when sampled, until the first playback of the stream occurs. This includes but is not limited to:
Connection
Authentication
Object configuration
Buffering
---
FAQs
---
What formats work with streamtest?
RTMP and HLS, RTMP (rtmp://server1.yourhost.net/channel/streamm, HTTP HLS 1 (See below for CDN specific examples). crossdomain.xml access is not required for monitoring.
Full FAQ
Will streamtest monitor notify me when my stream is off?
Yes: StreamTest monitoring - stream down alert
Full FAQ
What does streamtest monitor?
The default sampling measures Streaming bit rate in Kbps (kilobits per second) and TTP (time to play), However streamtest monitor can sample over 300 data points regarding your stream. See selection here
streamtest.net/data-points
How many times a day does streamtest monitor my stream?
As many times as you want. Streamtest monitoring service can sample and measure your stream every 2 seconds should you require.
Full FAQ
Can I adjust the interval time between when streamtest monitors my stream?
Yes, you can set the interval time between samples to be whatever you want.
Full FAQ
How to do I get set up?
Simply click the registration button above and login or you can click here and add your stream, then register and go.
Does streamtest monitor on demand streams as well as live?
Yes on demand or live. Your choice streamtest works with both.
Full FAQ
Can I test first for free?
Yes, streamtest.net offers a free monitoring service that even includes stream off alert.
Does streamtest monitoring work with DRM, encrypted and token secure channels?
Yes, however you may need to contact our support line to get set up first. there are instructions listed in our faq about how to set up each secured streaming channel you might have
Full FAQ
What if I need help getting set up?
We are here to help. Simply click the live chat to the right,
email our support department
, call direct: 1-888-807-3383, or complete the registration information and include any questions you might have